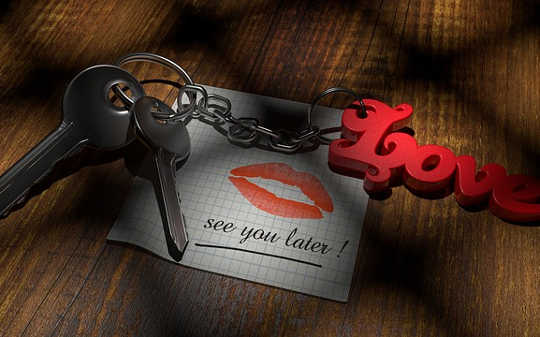 My journey has helped me know that with complete certainty that "Yes," there is much help and hope on the other side and no soul is lost, even after suicide. If suicide does occur, that person is not lost, will not be con­demned, will be greeted with love, be allowed to rest and then again have the opportunity to learn a better way through the challenges of life. Suicide does not solve anything. Neither does it result in an everlasting death or punishment sentence.
And to all those families and friends recovering from suicide, even as you trust that your loved one is being cared for well, allow yourself to grieve fully. Let it out and express yourself. Counter the isolation which often surrounds suicide by surrounding yourself with the beauty of nature and supportive friends that can go beyond platitudes and help you stay connected with life.
Give yourself much time—this is not a quick process. Those in your outer circle may be ready to move on in a few weeks. If the person who committed suicide was close to you, your journey through grief may take years. This grief is your right and your sacred process.
Loss, anger, and sadness are to be expected. Self-torturing "Would have, could have, should have" cycles of thought can be like birds of prey circling. Bitterness, blame, and harsh judgment of yourself and others may surface. Look at these things as symptoms of the storm—they will subside eventually. To the extent that you can, gently but firmly steer your life back to the light.
An unfathomable weariness may weigh you down. When it does, get some rest, and if sleep will not come, at least rest in the form of a nature walk, listening to a meditation, or watch­ing an old sitcom.
Much of your pain can be from attempting to close off and protect your heart so that you do not experience more hurt. This can make everything seem dull and grey, and you to feel even more isolated. It takes courage but keep your heart open if at all possible, and if not this week then try again next week, and the next.
In Memoriam
I think it is appropriate to do something in memory of the person that you have lost. That may be as simple as planting a tree or more extensive such as volunteering for a cause that they would have been passionate about.
---
Get The Latest From InnerSelf

---
To the extent you can, trust that you will be with this person again in spirit if you have that desire, and that while an earth life here can seem to go on for ages, from the other side perspective it is but a blink of an eye. And finally, after the grieving has eased, use your experiences to create something positive, something that brings a bit more light and love into this world. If you are grieving, I hope that joy and laughter return to you before much time has passed with the freshness of rain after a long drought.
Remember that we all must die each day to what no longer serves us, in order to fully grow into who we can truly be. To do this takes melting fear with love and moving forward taking risks. The reward will be a great joy for you and those around you—of a life lived to full potential. Anything less is a bit of a suicide, now, isn't it?
The Fear That Binds
I feel it is very important to understand how we manifest our individual and collective lives because at this time there is a high degree of fear in our world that is pulling us toward manifesting a very negative world future.
For example, because of fear of terrorism now, we see our privacy rights in the U.S. being diminished where much of what we do is monitored and we can be abducted without charges or legal representation to an unknown place for an unlimited time in the name of Homeland Security.
The fear generated by the threat of terrorism has created an overkill response that takes away the freedom, privacy, and important rights of all our citizens. This shift has been dramatic.
When I traveled in Europe pre-9/11, there was a palpable apprecia­tion and desire for the "American" way of life. Now when I travel there, folks respectfully take me aside and express concern that the American dream is dying in the United States. And Europeans report fear of com­ing to visit what they see now as the American police state, particularly if they have experienced firsthand, the entry process for foreign visitors established at our borders after 9/11.
Getting Fear Under Control and Keeping Things in Perspective
This distortion caused by fear saddens me deeply—the actual facts are that an average of six people a year have died in foreign terror attacks on U.S. soil in the past ten years (2004-2014). This is in contrast to an estimated 400,000 per year dying from medical mistakes and tens of thousands in car accidents and gun incidences. So we need to keep perspective.
I also see the immense reserve of good will, creativity, and love of freedom that exists in the United States and know we can get back on track if we can get our fear under control.
Healing starts with the majority of us individually getting our own fear under control and beginning to envision a positive future. I used to try to meet fear with courage, now I melt fear with love.
My new mantra is, "Fear is expensive, love is priceless, choose wisely!" Someone was kind enough to put my saying on a wooden sign and gift it to me. I placed the sign on the wall of my office where I see it many times a day. This is good because I need to be reminded of it often. From my point of view, we very much need to understand how we create our reality and master the tools needed for creating a positive future at this tipping point in our society.
Keeping An Open Heart
One of the tools that I have used since its discovery in the first year after Pete's death, is my image of my heart as a vast ocean, unable to be broken. Since its discovery, my heart is like water. If you come into my life, you're enveloped completely, like a hand submerged in water. If you leave, the water goes back to complete, perhaps losing a drop.
This idea of an ocean heart has allowed me to experience the death of my parents, my brother John, and close friends without closing off my heart and without the tearing grief that I had with my brother Pete's suicide.
My ocean heart has also served me well when I had a near-death experience with anaphylaxis from a bee sting about six years ago. I was without vision and blood pressure within minutes. Yet I was able to control my fear during the event, which may have kept me alive. And on many occasions since, when a bee buzzes close by me, I can keep my cool.
My ocean heart helps me hold the pain of the chaos in the Middle East and other world problems that tend to overwhelm us, with a peace in my heart and little fear. I hope to carry this image life-long and into whatever life may bring next here, and even after death of my body.
I offer this image to you as my gift. When the peoples of the world know and experience that their hearts are joined as a vast ocean, we will truly be able to create a paradise here on earth.
©2017 by Joseph Gallenberger.
Reprinted with permission.
Published by Rainbow Ridge Books.
Article Source
Heaven is for Healing: A Soul's Journey After Suicide
by Joseph Gallenberger, Ph.D.

Joe shares how the family crisis of his brother's suicide challenged him for over twenty years. He describes his own struggles with depression, and of how he rose from grief and made it his life's work to help other people live their lives to their fullest potential. He shares the tools he has created to move people from sadness and limitation into abundance and joy.
Click here for more info and/or to order this book and/or download the Kindle edition.
About the Author
Dr. Joe Gallenberger is a clinical psychologist with over 30 years experience. A dynamic, heart-driven speaker, Dr. Gallenberger is in demand internationally on topics such as psychokinesis, energy healing, and manifestation. He is a senior facilitator at the Monroe Institute and created its highly successful MC2 program. He developed SyncCreation®: a Home Study Course in Manifestation, and he teaches his Inner Vegas Adventure™ workshops in Las Vegas. Visit his websites at SyncCreation.com and InnerVegas.com.
More books by this Author
{amazonWS:searchindex=Books;keywords=Joseph Gallenberger;maxresults=3}
More Articles By This Author
You May Also Like