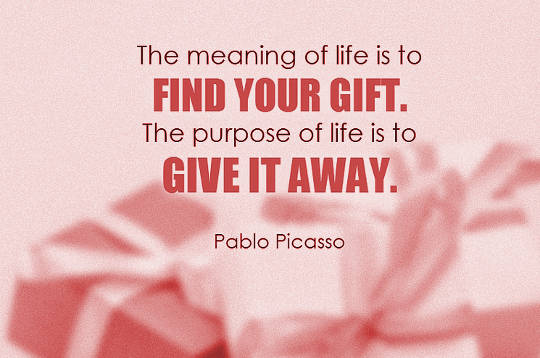 Original photo credit: Michael Schwarzenberger.
Each soul is born with an array of skills, strengths, and aptitudes. You, like everyone, have special talents that equip you for a creative, fulfilling life. You came into this lifetime with the assets you would need to be a success. Some of your talents have emerged naturally—abilities that simply are second nature for you. However, many other strong points have required some work or training in order to develop and mature. They have been like seeds that you were given at birth, but they sprout and grow only if you carefully nurture them.
Sometimes it may be hard for you to accept the fact that you are truly a talented person. Modern society gives extraordinary attention and publicity to just a few artists, athletes, entertainers, scholars, and politicians who excel. Sometimes it may be easy to catch yourself making comparisons and saying to yourself, "Do I really have any strong points? Isn't someone always better than I am?"
In moments like these you need another way of evaluating yourself. The issue is not whether you are the very best at some task. It's a question of what abilities you can draw upon to create and serve in the world in your own unique way. The Cayce readings redefined what it actually means to be the best at some talent. For your specific mission in life, with the people whose lives you were born to touch, you are the very best with your talents and skills. No one can live your spiritual purpose as well as you can.
One of the most fascinating parts of a Cayce life reading is its description of an individual's talents. Even the most common person is portrayed as gifted. For example, a seventy-year-old housewife was told in her reading that she had a strong will, was a good conversationalist, had a love of beauty, and was a good judge of people. A forty-year-old engineer received this portrait of his talents: skill with mechanical things, the perception of details, intelligence, and a mystical bent. A two-year-old boy was told in his life reading that he brought with him into this lifetime five assets: an aptitude for political and economic affairs, little fear of anything, communication skills, an ability to influence people, and a natural understanding of legal matters.
What is a talent or aptitude?
A talent or aptitude is a special ability that makes something come easily or naturally. It's a way that the soul and spiritual forces touch material life, a window through which creative energy and spiritual sensitivity flow into physical experience. Imagine that your Higher Self is not yet able to express itself fully in your conscious, physical life. However, a few of its qualities shine through. Your talents and aptitudes are similar to windows that let the light radiate in.
Talents are the assets you exercise in your profession. Every job requires a certain aptitude and set of skills. If your occupation demands talents that you don't have, the job is probably a strain on you. If you have abilities that aren't demanded by your profession, you may feel bored or thwarted.
Talents are just as much an issue outside a formal occupation. You draw upon your special abilities every hour of the day. These strengths and skills of your soul want to be used. In fact, you'll feel frustrated unless you make them a part of your interactions with other people.
---
Get The Latest From InnerSelf

---
Talents and aptitudes can be misunderstood
Some people mistakenly assume they aren't very talented because they score low on tests of intelligence. Psychologists use tests that indicate certain kinds of talent—for example, mathematical knowledge, verbal skills, or an aptitude for spatial relations—but many talents go unmeasured this way. Typical, standardized exams for intelligence are not an accurate description of your talents and aptitudes. In fact, two people with a genius-level IQ of 160 might very well have entirely different talents, just as surely as two people with IQ scores of 80.
Another mistaken notion of talents is to equate them with interests. The two can be related, but they aren't the same. Sometimes you may be interested in things that directly make use of your talents, but just as often the two may not match. Without a doubt, interests are important. They show where you're inclined to put your attention and energy. They may even indicate talents that you'd like to develop in the future.
How aware are you of the exact talents that equip you to fulfill your mission in life? Are they hidden assets buried within your soul and long forgotten? Or are they the same strong points you already know about yourself? Probably the answer is they are a mixture of both.
For most people, key talents and strengths fall into these four categories: unused ones of which you are unconscious, active ones that are distorted into faults, unused ones that you know you have, and active ones that you use regularly.
Excerpted with permission of the publisher, TarcherPerigee,
a division of Penguin Random House LLC.
©2017 by Mark Thurston. All Rights Reserved.
Article Source
Discovering Your Soul's Purpose: Finding Your Path in Life, Work, and Personal Mission the Edgar Cayce Way, Second Edition
by Mark Thurston
The most significant teacher of Cayce's teachings, Mark Thurston, updates and revises his classic book, Discovering Your Soul's Purpose, to help you use the Cayce teachings in the twenty-first century to find greater purpose in your relationships, career, and overall mission in life.
Click here for more info and/or to order this book:
http://www.amazon.com/exec/obidos/ASIN/0143130854/innerselfcom
About the Author
Mark Thurston, Ph.D. is an educator, psychologist, and author of more than a dozen books about personal spirituality, dream psychology, meditation, and mind-body well-being. Among his publications are The Essential Edgar Cayce (2004) and Willing to Change: The Journey of Personal Transformation (2005). Mark worked for the Association for Research and Enlightenment (A.R.E.) and Atlantic University in Virginia Beach, Virginia, for 36 years. In 2009 he moved into a new phase of his own soul's purpose, becoming the Director of Educational Programs for George Mason University's Center for the Advancement of Well-Being. In that capacity he focuses on teaching undergraduate and graduate courses about consciousness, mindfulness, and the science of well-being. Mark and his wife of many decades Mary Elizabeth Lynch are co-founders of the Personal Transformation and Courage Institute, a non-profit educational organization begun in 2000 which offers small-group learning intensives.
Books by this Author
{amazonWS:searchindex=Books;keywords=Mark Thurston;maxresults=3}
More Articles By This Author
You May Also Like